One day, surfing the net, I found a forum discussion about resin bodies from somewhere called Resin Realm by Jerry. As I visited the site, I was stunned! Jerry has a variety of bodies that could make any junkyard diorama look like out of this world!
Let me show you a few examples:
This is a 55 Chevy. You need AMT's 55 Sedan as a donor to finish this car. It comes with detailed info plus color charts for the Bel Air, the 210 and 150 models.
This one is a special one: a 55 Ford Fairlane Crown Victoria. As you know, my brother owns one (in real size, that is) and you can only find the 56 scale kit – well, Jerry fills that void with this resin kit. All you need is the 56 AMT Kit to complete the build.
What about this 53 Ford Mainline? I love to see 4-door bodies! You could build a police car out of it – or maybe just an old family car as a junker! This kind of cars could make  a junkyard diorama look just real!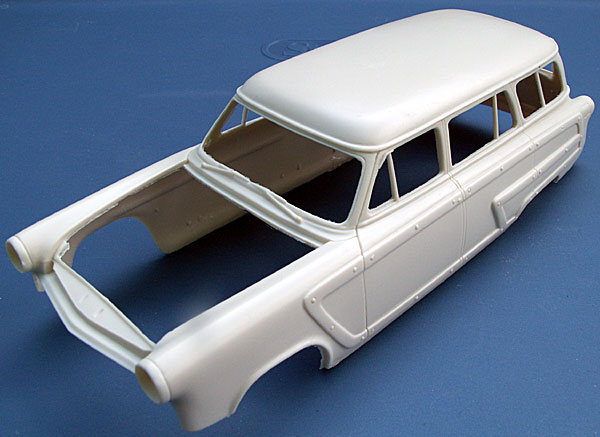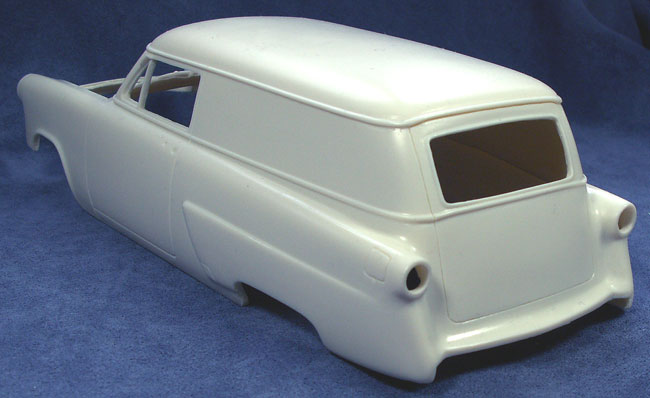 These are the country wagon and delivery versions of the 53 Ford. I could imagine building a row of 53 Fords on a junkyard diorama. The 53 Ford Victoria by Lindberg, the four door, the delivery and the station wagon!! That would look just awesome! O wait! I forgot to mention that Jerry also offers the Custom Line two door sedan, check out the pic of a build model below:
What about that! Four different versions of the same car! This kind of variety could make any diorama look more realistic. Most of the times you only the the high end models from the big kit makers. The Resin Realm offers some other things beyond that.
And these were just a few examples among many others such as:
Jerry usually includes the different interior / exterior color combinations for each car and some pics of real cars. That is really a big help, while building your models.
And there is much more from where these pics came from! I have to get myself some of these…
These are just a few of resin kits:
1955 Buick Roadmaster 2 dr Riviera
1951 Chevy Styleline Dlx 2dr Sed
1956 210 4 Door Sedan
1955 De Soto 2dr Htp Complete Kit
1957 Dodge Royal Lancer 2dr Htp Complete Kit
1958 Pacer Convertible
1932 Ford I8 4 Door Sedan
1936 Ford Deluxe Phaeton
1948 Ford Deluxe 2 Door Sedan
1955 Ford T-bird Fairbird (Prototype) Complete Kit
1956 Mainline 2 Door Sedan P
1956 Ford Customline 2 Door Sedan
1956 Ford Fairlane Club Sedan
1956 Customline 4 Dr 6 Passenger Country Sedan
1959 Ford Custom 300 2 Door Sedan Complete Kit
1952 Hudson 2dr Sedan
1949 Mercury Woody Wagon
1955 Mercury Montclaire 2dr Htp
1949 Oldsmobile 88 Club Coupe
1955 Oldsmobile 98 Holiday Coupe Complete Kit
1941 Plymouth Sedan Delivery
1957 Plymouth Belvedere 4dr Wagon Complete Kit
1953 Pontiac Sedan Delivery
1958 Pontiac Bonneville 2dr Hardtop Complete Kit
1950 Studebaker Commander Convertible
1953 Studebaker Commander Coupe Paint Available